Photos
We've been tearing down and building up for six solid years at Coyote Run Farm. Here are some photos of our rehabilitation efforts.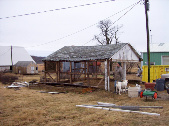 We tore down the garage in 2006 and salvaged much of the wood for future projects. According to the tax records the house, barn, and garage were built in the 1930s. Unlike the house and the barn, the garage was too far gone to save.






In 2010, we lifted the house and built a full basement underneath. We lived 12 weeks in the garage preparing meals on the gas grill, showering in the greenhouse, and using a port-a-pot. Luckily we had our vegetable washing sink to do dishes on the lawn. We are enjoying our "new" house and hoping we'll not need to live in the garage again.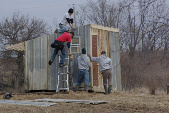 Bracy the neighbor boy and Matt's cousin Clint helped construct a moveable poultry building in 2009 from a combination of new and recycled materials. We've used the building for both turkeys and chickens. In 2011 we'll be building another building on top of the running gear of a recycled hay rack.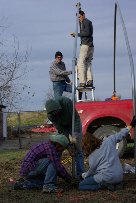 A crew works on putting up the high tunnel in the fall of 2010. We're optimistic that this building will help us grow high quality produce regardless of the weather. After losing crops to wet weather in 2008 and 2010, we're looking forward to having full tables again at the farmers market in 2011.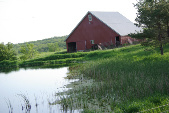 Our first big project was rehabilitating the barn. Not only do we love the way it looks, we depend on it to store hay for our livestock and to keep equipment out of the elements. The cats love it too.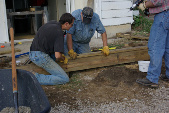 Our friend Paul and his dad Bernie helped us with the foundation for building the greenhouse on the south side of the garage in 2009. This building allows us to start all of our heirloom tomato and other bedding plants from seed. In 2010 we started nearly five thousand tomato plants.