Poultry & Eggs
We have a flock of 250 Gold Star laying hens. Our hens sleep and lay in a coop, but spend most of their time on 2 acres of pasture throughout the year and glean from the garden when Iowa's weather stops the growing season. We feed our hens a complete feed containing no antibiotics and provide them with whole grain corn and oats.
Eggs can be purchased weekly at the Des Moines Downtown Farmers Market May through October and at the November and December markets. We also have two locations January through April for people to reserve and pick up eggs in Des Moines. We also welcome customers to pick up their eggs at the farm.
In some years we've grown a small number of heritage breed turkeys on pasture. We sell them fresh for Thanksgiving. The best way to preserve an endangered domestic farm animal is to eat it. We enjoy doing our part to protect these nearly extinct genetic lines. And we join our customers in celebrating the best tasting and easiest to prepare turkey for Thanksgiving celebrations.
Our heritage turkeys have been the stars of the farm during Farm Crawl in October. Children quickly figure out if they scream at the turkeys, the gobblers will holler back. We've had to take some years off raising the turkeys, such as 2010 because of the house project and this year because our turkey building was being used by the second flock of laying hens, but we hope to have a small flock in 2012.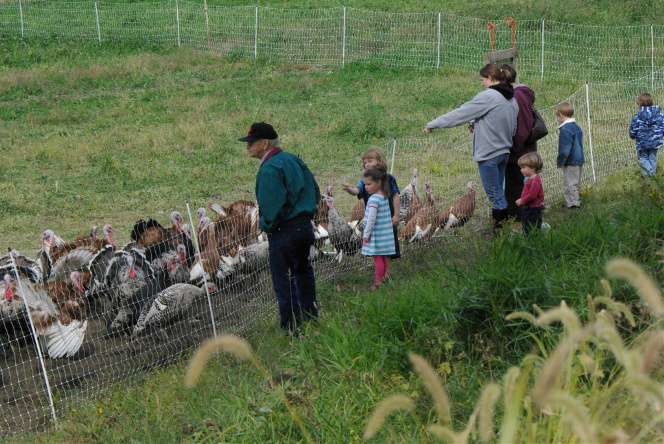 Our laying hens are on pasture all year long. In harsh winters such as the record snows of the 2009 and 2010 season, we build a "patio" consisting of a wind break and hay. Chickens can stand the cold but they hate the snow. So creating a sunny spot filled with hay gives them an incentive to come out of their building and do a little grazing, even on the worst of winter days.